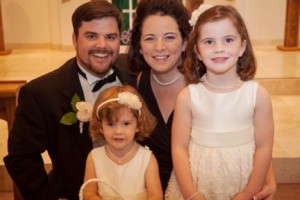 One of the most exciting changes for the upcoming school year is the return of Laura Montgomery to LCCS. Laura will be joining us as Assistant Head of Upper School and Academic Dean. In this new position she will oversee the upper school's instructional program and implementation of curriculum. 
We asked Laura to share some thoughts on returning to LCCS and on her new position here:
I am so excited to be returning "home"! LCCS has played such an integral part of my life – personally and professionally. LCCS prepared me as a student for a top tier university, connected me to life-long friends and my high school sweetheart-turned husband, gave me amazing and wide-spread experience as a new teacher for 7 years that I have relied heavily on for the past 4 years at Trinity Valley School. But LCCS has always had my heart and I'm excited to try and give back a little of what LCCS has given me. I'm excited to work with my friends and fellow educators to continue to raise the academic excellence of LCCS.
My role in grades 6-12 will center around curriculum and instruction. I look forward to working within curriculum alignment and best teaching practices. One of my professional mentors is Sarah Deckert, and the chance to learn from her again while supporting her vision of the Upper School is an opportunity that I jumped at!
I have been blessed to be involved a little bit in the hiring and development process that has been going on over the past semester to prepare for next year. I am so excited about the future of LCCS – from the amazing faculty that is already at LCCS to the new faculty coming into the family. I'm especially thrilled about the influx of alumni faculty and families into the school.  I really feel that there is a legacy coming into play from the cornerstones of LCCS history – Jesse McElreath, Ruth Byers, Byron McKissack, Robert and Pam Adams, Tom Blanton…the list could go on and on. We are the generation that was so blessed by the faithfulness of these cornerstones, and we are returning to pass on that blessing to the next group of LCCS students. I'm especially excited that there will be two faculty members from the LCCS Class of 1997 – myself and Upper School English teacher Lindsey Mercer. I have worn many different "hats" in my 24 year association with LCCS – student, alumni, teacher, parent, and now administrator. I am thankful for each opportunity!
After graduating in the LCCS Class of 1997, Laura received a B.S. in Mathematics, B.S. in Secondary Education, and M. Ed. in Mathematics Education from the Peabody College of Education at Vanderbilt University. She returned to LCCS from 2003-2010. During that time, she served in roles including teacher, Science Department Chair and Secondary Academic Coordinator. Since 2011, Laura has been teaching Integrated Physics and Chemistry and was the 8th Grade Coordinator at Trinity Valley School in southwest Fort Worth. We are so excited that her children, Emma and Carol Joy, will be joining her at LCCS next year. They were previously attending Liberty Christian in Argyle where Laura's husband Daniel ('98) is the Choral Director. The Lake Country Christian School family is thrilled to be welcoming the Montgomery family back into our halls for the 2015-16 school year!