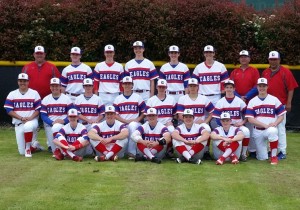 Eagle varsity baseball finished the season as back-to-back district champions and made school history as our first baseball team to go undefeated in district play. The season included both District, Bi-District, and Area titles and an appearance in Regional Finals! In addition, we have many individual honors to share. Here are the TAPPS Division III, District 2 All-District selections and today's announced All-State selections:
All-District:
1st Team: Kirk Dornak, Codie Gilbreath, Ricky Arthur, Brooks Mitchell, Ryan Hansford, Christian Brown, Fisher Hazen
2nd Team: Garrett Guerrero, Daniel Vickers
Honorable Mention: Andy Faulkner, Trevor Thompson
District Superlatives:
District Defensive Player of the Year: Brooks Mitchell
District Pitcher of the Year: Ricky Arthur
District MVP: Kirk Dornak
District Coach of the Year: Brett Thomas
All-State:
1st Team: Kirk Dornak, Codie Gilbreath
2nd Team: Ricky Arthur
Honorable Mention: Fisher Hazen, Ryan Hansford
Academic All-State:
Kirk Dornak, Daniel Vickers, Christian Brown, Ryan Hansford, Brooks Mitchell
Congratulations to these Eagles and our entire baseball team on another incredible year!