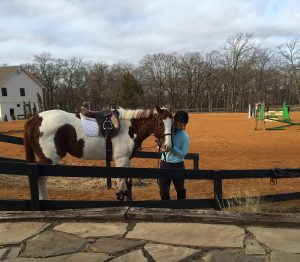 Micah Lindstrom, an LCCS senior, is competing in the Interscholastic Equestrian Association (IEA) Nationals starting Friday in Syracuse, New York. Micah rides for Summer Hill Farms in Flower Mound.
Nearly 200 teams of the 1,560 from across the country will be represented at the event. The competition is made up of individuals and teams who had the highest number of points in their IEA regions before moving on to win at Regional Competitions then Zone Finals, and finally, advancing to Nationals.
The 2018 IEA Hunt Seat National Finals can be watched via live stream April 20-22 at www.rideiea.org. Here is the Schedule of Events. Join us in wishing Micah and her teammates the best as they compete this weekend!