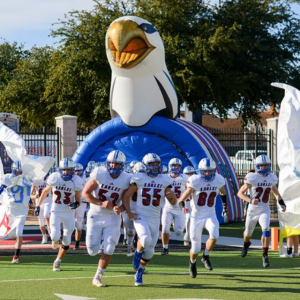 There is something undeniably different about the Varsity Football Team and Lake Country Christian School this year. LCCS has had a varsity football program for 10 years. That decade has included 7 playoff appearances. Three of those runs have ended at the Regional Finals. But not this year. LCCS not only won the Regional Championship, but they will play in the State Championship Game this weekend for the first time in school history.
It's not just the athleticism of the team that has changed. The football program, as well as the student body as a whole, has shown a renewed devotion to God and a commitment to Faith. Many players are leading or attending regular Bible study meetings and have become more involved in their church. Many of these young men would attribute their success to this spiritual revival that has shaken the school. As each player has drawn closer to God, they have also drawn closer to each other, leading to a new level of unity. Each player acts as a link in a chain, picking each other up. This has led to more passion and intensity as each man is fighting for his brother next to him.
So come on down to Waco and support the Eagles as they seek to honor God by competing with integrity, honor one another by playing with intensity, and honor the school by winning the first ever Football State Championship for LCCS.
– Jaden Allenbrand, Senior and Proud Member of the LCCS Varsity Football Team
TAPPS Div IV State Championship Game Details #lccseagles