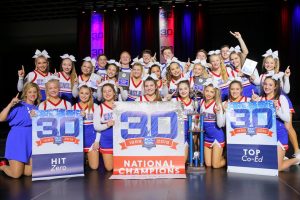 Our Nationals Team took care of business at the 2019 FCC National Christian Cheerleading Championships in Orlando. They swept the awards, winning for:
Best Stunts
Best Jumps
Best Tumbling
Best Showmanship
Awards for the first day's competition also included:
Co-Ed Partner Stunt Award: 1st Place – Luke Light & Lily Carroll, 2nd Place – Parker Phillips & Brooke Banta
Varsity Cheer Duo Competition: 1st Place – Avery Farr & Taylor Harrison
Varsity Co-Ed Group Stunt Award: 2nd Place – Taylor Harrison, Skylar Cawley, Shania Warner, Gabe Fox & Luke Light
And our amazing Coach Duffy was a finalist for Coach of the Year!
Things only got better, and you can watch our routine in the Finals! The Lake Country Christian School Eagles ended the competition as Large Varsity Co-Ed National Champions, Grand Champions in Co-Ed, and received the Hit Zero Award which means ZERO deductions in the competition!  Congratulations to LCCS Cheer and Coach Duffy!
#lccseagles #fcc4life #fccnationals19 #eaglespirit#eaglepride #hardworkpaysoff