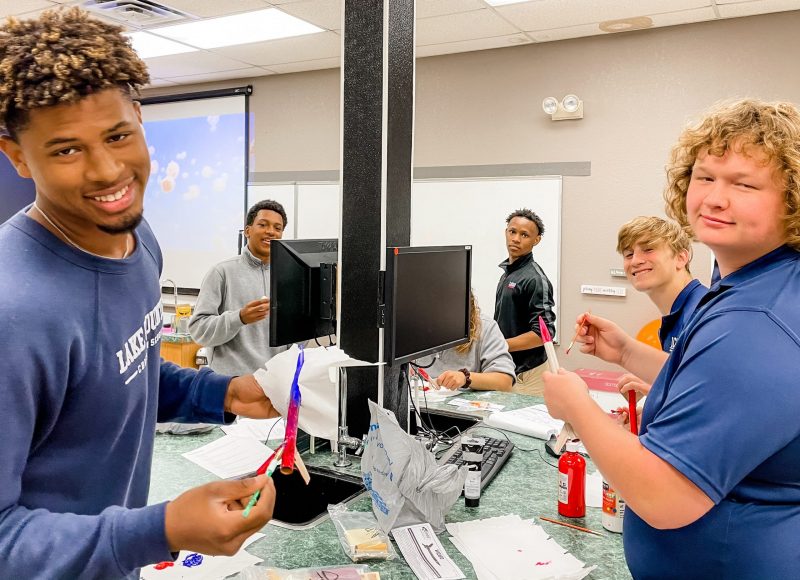 Lake Country Christian High School
is a Christian College Preparatory Academy. Our goal is to prepare our students to be Christian leaders as a part of a successful college experience and beyond. There are many opportunities that are available to further this endeavor.
Rigorous Academics
Well-Rounded Student Life
Competitive Athletics
Top Notch Fine Arts
Spiritual Foundation
As a college preparatory academy, Lake Country Christian High School follows the state's diploma requirements. All graduates earn a High School Foundation Diploma plus the Multidisciplinary Endorsement & Distinguished Level of Achievement. Additional endorsements can be earned.
4 credits English
4 credits Bible
4 credits Mathematics
4 credits Social Studies
4 credits Science
2 credits same Foreign Language
1 credit Fine Arts
1 credit Athletics or 4 credits Band
Graduation Requirements: 28 Credits
Courses beyond required courses can be selected from electives. In addition, there are multiple opportunities presented to students to exceed those expectations, including AP and dual enrollment courses.
Advanced courses include:
• Algebra II • Art III • Art IV • Choir • Band • Biology I • Biology II • Chemistry I • Chemistry II • Calculus • English I • English II • English III • English IV • Geometry • Journalism Honors • Physics • Pre-Calculus • Principles of Computer Science • Spanish III • Statistics • U.S. Government
Additional elective courses include:
• Advanced Quantitative Reasoning • Anatomy & Physiology • Applied Leadership • Art I • Art II • Athletics • Band • Business, Career & Finance • Concert Choir • Christian Apologetics • Creative Writing • Engineering Design and Problem Solving • Health • Home Economics • Theater • Theater Tech • Visual Arts • Worship Culture • Online courses as approved by administration
Lake Country Christian High School utilizes a Block Schedule.
The iPad is the 1:1 technology tool for teaching and learning. Students in grades K-6 are provided a classroom iPad to use during the school year. Every student in grades 7-12 is responsible for purchasing their own iPad with the appropriate requirements to use in the classroom and at home each day. Through this program, we continue the school's ongoing commitment to:
Educate students for the 21st century
Equip students to lead in technology
Encourage students in innovative thinking
As you progress through your educational experience, life at Lake Country Christian High School is enriched through extracurricular opportunities.
The House System:  The purpose of the House system is to provide a means of building unity, loyalty, and tradition through the high school over an extended period of time. It is designed to encourage and increase competition among the students, and to create a supportive environment. It also provides leadership opportunities. It originated in British boarding schools where students actually lived in "house" units and started at LCCS in 2008. The LCCS Houses of Blanton, Byers, McElreath, and Maulden are named after persons with founding connections to the school. Each House has distinguishing character qualities, a color, and an animal mascot. The LCCS High School student body is divided into four mixed gender mixed grade level groups. All members of the same family are placed in the same house. The Houses do not replace grouping students by grade level for Pep Rallies and other traditional events.
2021-'22 House Officers: TBD
Blanton: Head of House- ; Historian- ; Chaplains-  &
Byers: Head of House- ; Historian- ; Chaplains- &
Maulden: Head of House- ; Historian- ; Chaplain-
McElreath: Head of House- ; Historian- ; Chaplains- &
4-H:  Texas 4-H prepares young people to step up to the challenges in their communities and the world. Head, Heart, Hands, and Health are the four Hs in 4-H, and they are the four values members work on through fun and engaging programs. These programs provide 4-H youth the hands-on real-world experience they need to develop into leaders.
Student Council:  The LCCS Student Council provides students the opportunity to participate in a representative governing body at an appropriate level for upper school students. Student Council members provide input, organize, coordinate, and carry out plans for special events throughout the year including New Student Orientation, Open House, Spirit Week, Love Your Neighbor Week, Homecoming, and Spring Formal.
2021-'22 Student Council
Officers: President Eli Purtell, Vice President Case Carroll, Treasurer Maddie Wyatt, Secretary Cate Cumbie
Senior Representatives: Brett Lindstrom, Emily Fraser
Junior Representatives: Grace Arzamendi, Ava Garcia
Sophomore Representatives: Charles Campbell, Chance Duffy, Liv Hunsucker, Nick Lindstrom, Annelise Rojo, Campbell Young
Freshman Representatives: May Fraser, Joshua Smith, Jairus Wolfe
Student Leadership University: Lake Country Christian School has partnered with SLU, the premier leadership training program for Christian students. Student Leadership University's mission is to develop and equip student leaders to think, dream, and lead. SLU offers programs each summer through which students are trained and equipped to become difference-makers throughout their lives. Learn more.
Spiritual Life
Lake Country Christian High School is an extension of the Christian home and local church. We are committed to providing opportunities for students to come to faith in Christ, to teach them who they are in him and to grow in a real relationship with God. Bible classes, chapels, retreats, biblically integrated academic instruction and relationships with other students, teachers, and administrators whose lives reflect Christ help students to love God and want to know him better.
Community Outreach and Missions
Lake Country Christian High School is committed to missions. Acts 1:8 commands us to be witnesses in Jerusalem (Fort Worth), Judea (Texas), Samaria (Mexico), and the uttermost parts of the earth (overseas). Our desire is to give students an opportunity to fulfill these verses and to see the purposes of God revealed.
We feel very strongly that students learn early on the importance of giving back to the community and sharing God's love with others on a practical level. High school students are encouraged to serve locally or through domestic and international mission trips.
High school students have traveled with LCCS to Galveston, Arizona, Missouri, Colorado, New York, El Paso/Juarez, Honduras, Spain, Dominican Republic, Thailand, Peru, Argentina, Panama, Romania, Scotland, Germany, India, Turkey, England, South Africa, Czech Republic, El Salvador, and Italy to serve through building projects, disaster recovery, feeding the poor, working with schools/orphanages/medical clinics, evangelism, intercession, and outreach through the arts or sports and cultural exchanges.
Throughout the year students come together to plan, gather needed resources, and provide support for community-based organizations such as Beautiful Feet Ministries, Tarrant Area Food Bank, Union Gospel Mission, Life Unlimited Ministries, and Saginaw's Community Link Mission.
High School Mission Days are designated each spring to provide an opportunity for students to serve together at local community-based organizations.