Check out what Eagle families say about LCCS!
My Sweet Girl accepted Christ into her heart today. I am so happy for her. She told me they talked about it at chapel last week and she had been thinking about and was ready to do it. So I led her in the prayer. I am thankful for the positive influence LCCS has had on my children that attend there. I am excited to see what the Lord has in store for them. Thank you LCCS for being a light in a very dark world and for helping to walk along side us parents to make warriors for Christ Kingdom!
Truly loving staff and students. My grandchildren have flourished at this school. More opportunities for individual growth, and also to excel. Exceptional teachers who have the heart of Christ. -Jan. 2019
Lake Country Christian School and the Roland Family partnered together for 27 years. Their first child started school in 1988 and their youngest graduated in 2015.
Brenda Roland states, "Our time at Lake Country Christian School was a very positive experience. We feel it prepared our children both spiritually and educationally for success after high school. LCCS taught our children both how to pursue their dreams in various activities such as fine arts and how to balance their priorities in life. They all attended college and received high honors. We attribute this to their positive experience during their time at LCCS. We prayed for several years for God to lead us to the place where our children would be educated. Our number one reason for choosing LCCS was spiritual guidance. We loved that LCCS would reinforce what we were teaching at home. We knew that with school being a significant part of our children's day, we wanted them to have a Biblical worldview."
The Rolands are a family of LCCS alumni. Two of their children met their future spouses in kindergarten and married them after college. Brenda said their family has life-long LCCS friendships and relationships with teachers and are deeply grateful for their time with the school and the investment that the staff made in their children.
"If LCCS hadn't given me the opportunities to perform, I don't know if I would've fallen in love with the stage! I never did community, church, or professional theatre in high school, so who knows what I'd be doing without LCCS theatre."
Daniel is a member of Alpha Psi Omega Theatre honor society at ACU and had the honor of playing the lead, Sam Wheat, in "Ghost." He stated that his role in "Ghost" was the most artistically rewarding experience of his life. To top it off, some of his LCCS buddies came to see the show. His final show at ACU was the lead in "To Gillian on Her 37th Birthday" before graduating from ACU in 2017.
College summers also offered opportunities. Daniel spent one summer performing at a theater in New Jersey and another working with special needs children at "2 Dance 2 Dream." They use dance as a fun physical therapy for children who otherwise wouldn't be getting exercise, let alone any chances to perform. As Daniel said, "It really has been an amazing journey and one I'm truly thankful for."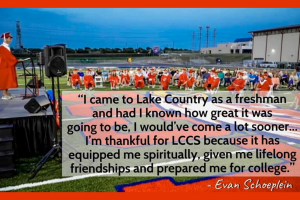 Our first year here and absolutely love it. Not sure what took us so long to get here! Great staff, teachers, curriculum, extra-curriculum! Whole kit & caboodle! -Feb. 2019
"I remember at chapel, there was a group from Africa singing. I cried the entire time, not really understanding why. My classmates didn't understand either! However, I knew that the Lord was doing something in my heart and putting a desire to live in places that don't have the same resources and opportunities that I had to hear of God's love. LCCS gave me so many opportunities to develop different kinds of skills by being involved in everything from athletics to musicals to school government. The biblical worldview and environment that pushed me closer in my walk with the Lord contributed to who I am today."
Dawn and her family have lived in the Middle East for almost 15 years. Currently, they live in a little corner of Northern Iraq. They are involved in relief and development with the influx of refugees in the area. Through the relief program, they have built four refugee camps, housing over 500 people, and a community center. The community center provides educational programs and vocational training for the refugees.
Dawn attended Baylor University and received a degree in secondary education. Baylor presented Dawn and her husband with the Pro Ecclesia Award. This award is given to individuals whose contributions in the public/non-profit sector or Christian ministry have made an immeasurable impact on a local or global community.
"Lake Country gave me the skills to succeed academically, socially and spiritually in college and afterward. I learned to think critically and to analyze information effectively. I also learned to evaluate my beliefs, to make decisions based on those beliefs, and to stand by those decisions with conviction."
Jamie finished her bachelor's degree at Colorado College in 2012 and then spent a year abroad doing independent research looking at the impact of Christian schools in developing nations. During that year, she was in Honduras, Thailand, Cambodia, Burma, Uganda, and Madagascar. She then went back to Lake Country (2013-2014) and taught physics (part-time). Jamie just finished her first year at UT Law School. She spent the first half of this summer with a big firm in Dallas (Baker Botts) and the second half with the Human Rights Initiative (also in Dallas) doing asylum work with refugees.
"Even though LCCS is a smaller school, administrators are flexible and willing to make things happen for students who show an interest in a particular field."
Adam states that Sarah Deckert's guidance allowed him to get college credit through AP classes at LCCS and graduate from college in three and a half years.
Adam graduated with High Honors from UT with a BS in Computer Science and had summer internships at Facebook and Dropbox. At Dropbox, he worked with a search engineering team, which led to a career as a Software Engineer at Dropbox.
"LCCS simply changed my life entirely. I was 15 and had recently lost my father to cancer. The family that Lake Country school and church provided for me and my mother was the instrument that God used to keep me from dwelling on the loss of the past and focusing on the promises of the future. Having so many Christian men and women serving as positive role models and providing love and encouragement at such a critical time in life is probably the single most important factor that started me out on the path that I've taken. I don't think I would have even considered the possibility of medical school, much less believed that I could achieve it, without the influences I had at LCCS."
Dr. Cearley is an Associate Professor of Orthopaedic Surgery at Georgia Regents University. He has a busy practice taking care of children with musculoskeletal problems; everything from broken bones to deformities to certain types of cancer that can occur in kids' bones and/or muscles. When he is not at the hospital seeing patients or doing surgery, he is spending time with his family and friends. The Cearleys have 3 children. They have recently decided to send their kids to a small, private Christian school in order to give them the same foundation that Dr. Cearley was blessed to have when he was their age.
"LCCS prepared me for college by teaching me how to balance my schoolwork, spiritual life, sports, family time, and a social life, as well as how to excel in all these areas. Without the time management skills I learned, I would not have been nearly as involved or successful in my college career."
Andrew received a degree in criminal justice from Sam Houston State University in 2016 and is currently an officer with the Fort Worth Police Department.