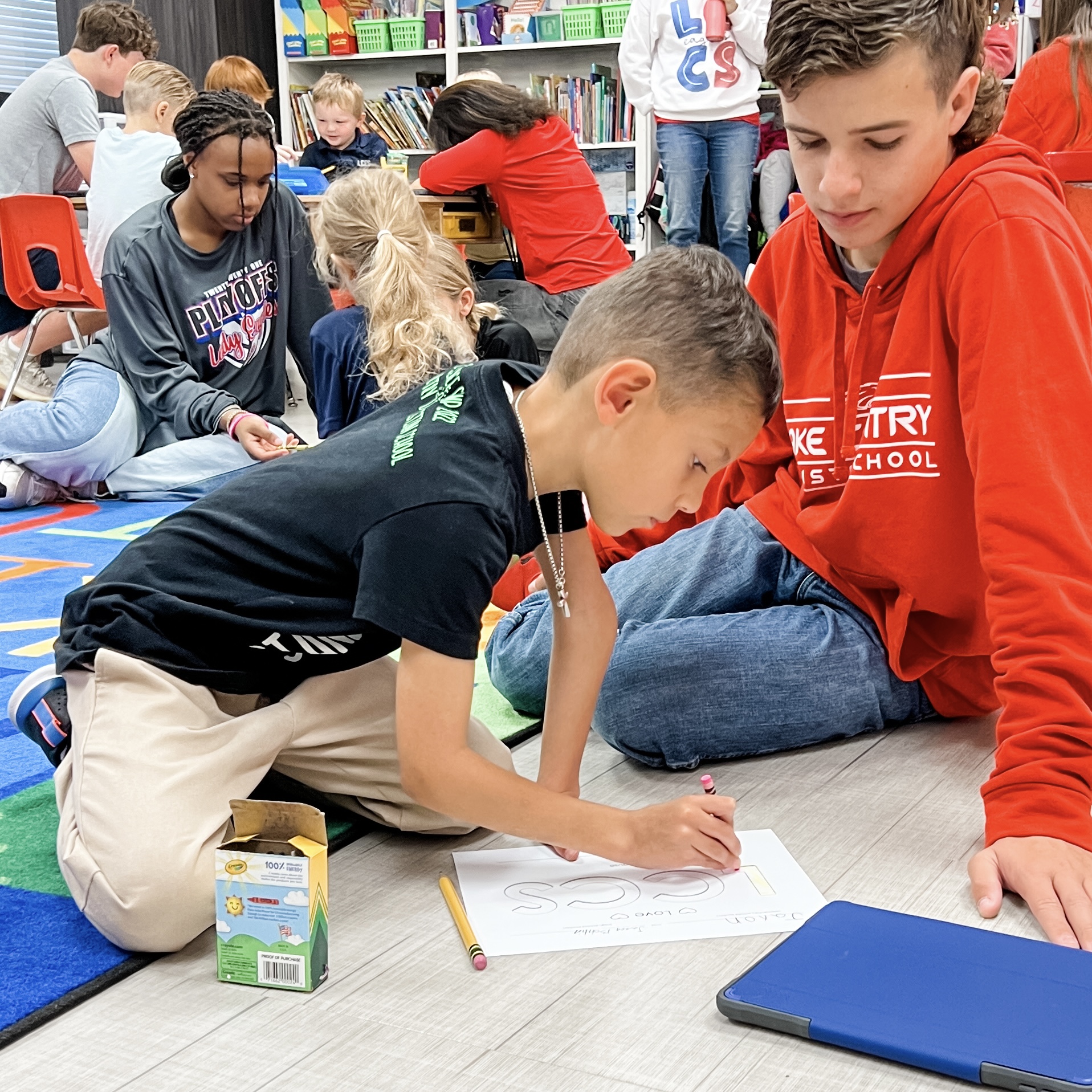 Lake Country Christian Middle School is designed to foster spiritual, character, academic and social growth through developmentally appropriate classes, activities, and training. Our middle school program is comprised of grades 7 and 8.
The LCCS Intermediate and Middle School programs provide:
Academics
Student Life
Athletics
Fine Arts
Spiritual Foundation
Lake Country Christian Intermediate School and Middle School seek to honor the Lord in each academic area offered. Every teacher continually infuses Biblical truths, stories, and concepts into the curriculum. Each academic discipline at LCCS is founded upon a specific list of ten Biblical Core Truths for that class.
Electives: Art, Band, Choir, Computer Science, Digital Visual Arts, Home Ec. Spanish I, Theater
* Math placement is determined by math grades in previous courses and teacher recommendations. All of the LCCS middle school math courses are prerequisites for high school math courses and provide opportunities for students to ready themselves for college preparatory math courses in high school.
Bible instruction at Lake Country Christian School is based on the precepts found in the LCCS Statement of Faith. Many different churches are represented in the student body. Students are taught to know, understand and explain what they believe and why they believe it. Biblical literacy, Bible verse memorization, personal devotional skills, acquisition of a Biblical worldview, and character training are goals. In Grades 5-8 the Bible classes meet in single-gender classes.
Fifth Grade
Core
Sixth Grade
Core
Seventh Grade
Core
Eighth Grade
Core
English
English
English
English
History
Ancient History
Texas History
American History
Science
General Science
Life Science
(Pre-Biology)
IPC (Integrated Physics
& Chemistry)
Math
Math
Math* (87 or
Pre-Algebra)
Math* (Pre-Algebra
or Algebra I)
Bible
Bible
Bible
Bible
Reading
Reading
Athletics
Communication Applications
Fine Arts: (Art/Band/
Choir/Theatre)
Fine Arts: (Art/Band/
Choir/Theatre)
Electives
Athletics
Athletics
Athletics
 
Electives
 
Electives
 
 
The iPad is the 1:1 technology tool for teaching and learning. Students in grades 7-8 are provided a classroom iPad to use during the school year but will need to purchase a charging brick and lightning cable for charging the iPad at home each night. Through this program, we continue the school's ongoing commitment to:
Educate students for the 21st century
Equip students to lead in technology
Encourage students in innovative thinking
MS student life at LCCS is rich, active, and designed to equip and encourage Christian leaders. All middle school students participate in athletics and fine arts. Team building activities provide a way for all MS students to build interpersonal and leadership skills. Social activities like the MS Christmas party and Fabulously Fun Fridays in February increase the fun factor. Opportunities to travel include a trip to Sky Ranch in 6th grade, and a Washington DC-NYC trip in 8th grade. Weekly MS Chapel services include worship, inspiring messages, and activities.
Spiritual Life
Lake Country Christian Middle School is an extension of the Christian home and local church. We are committed to providing opportunities for students to come to faith in Christ, to teach them who they are in him and to grow in a real relationship with God. Bible classes, chapels, retreats, biblically integrated academic instruction and relationships with other students, teachers and administrators whose lives reflect Christ help students to love God and want to know him better.
Community Outreach and Missions
Lake Country Christian Middle School is committed to missions. Acts 1:8 commands us to be witnesses in Jerusalem (Fort Worth), Judea (Texas), Samaria (Mexico), and the uttermost parts of the earth (overseas). Our desire is to give students an opportunity to fulfill these verses and to see the purposes of God revealed. Our school divisions place special emphasis on service projects and join LCCS IN ACTION each fall to serve on campus and in the community.