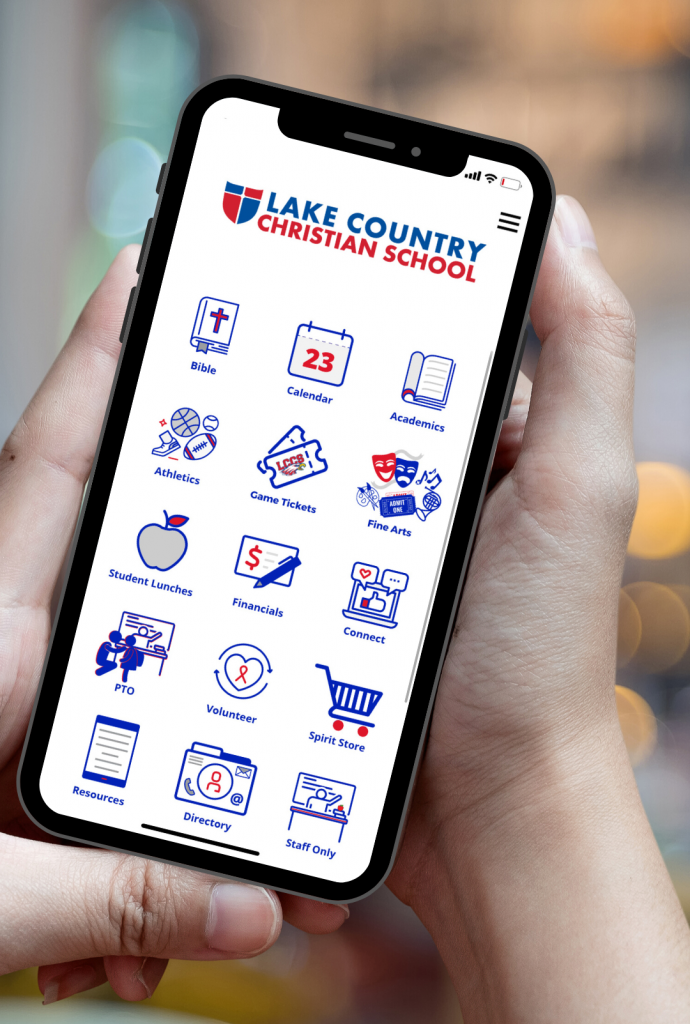 LCCS App/FACTS Family App – Released Fall 2020:
Free in the APP STORE – Search Lake Country Christian School to download.
Provides FACTS Family Portal access for parents/students, you must have set up your FACTS Family Portal login set up to use these features:

academics (attendance, report cards, etc.)
directory (parents and students)
purchase lunch (parents)/view lunch (students)
financials (parents)
giving (any user)
Log In with District Code LCCS-TX, then User Name and Password:
Parents use the account info you created on your FACTS Family Portal account.  MS/HS students use your school email and school password
Our App also includes quick links to the most commonly used LCCS content:
Bible – can sync to YouVersion App
school calendar
athletics schedule
tickets to home games
tickets to fine arts performances
spirit store
resource depots
easily find volunteer opportunities or log parent volunteer hours
ALL LCCS Social Media – you don't even need an account to view our newsfeeds – great way to follow varsity scores
newsletter

The RenWeb HOME App will no longer be paid for by LCCS as support from FACTS will be discontinued.
The Staff Only section of the App provides easy FACTS access for faculty/staff who do not have children enrolled at LCCS
Download it now in the Apple App Store or the Google Play Store.


Troubleshooting:
It says rotate screen for lunch and schedule but nothing happens:

This specific feature in the Family Portal is not mobile responsive at this time, and the app does not allow for screen rotation. FACTS is aware of the issue.

I am a staff member with no children at the school and I can't pull up the directory:

The Family app was developed for parents and students only, so the SIS authentication only works for individuals logging in as parents or students. FACTS is aware that many schools would like to go back to having staff access for this item.

I am a parent getting a log in error when trying to access a Family Portal area:

Do you work at the school? If you tried to log in as staff instead of a parent, the SIS features will not work. Log out of your profile in the app (top right, click profile, scroll down to LOG OUT), then try closing and re-opening the app to login to an SIS feature as a parent.
Can you log into Family Portal outside of FACTS Family App, either in a web browser on your phone or computer? If "yes" then go back to the app and be sure you aren't somehow logged in with an error. Go to your profile in the top right of the app. Click profile, scroll down, and if it says LOG OUT, click there. Close the app, reopen and try to log in.
Could there be a financial block on your account? If so, contact the business office to resolve the issue and remove the block.
Were you asked to reset your password? Parents can reset their user name or password through FACTS. Per FACTS if you reset your password and still get an error you may need to allow some time for the reset to work.

I am a student getting a log in error when trying to access a Family Portal area:

Be sure you aren't somehow already logged in with an error. Go to your profile in the top right of the app. Click profile, scroll down, and if it says LOG OUT, click there. Close the app, reopen and try to log in.
Were you asked to reset your password? Contact the Tech office the next school day to properly reset your school account.
If after logging out and back in you are still locked out, stop by the Tech Office the next school day for support.
Staff Info:
If you are also an LCCS parent, use the App to log in to parent access and use the browser on your phone, iPad or computer for Staff access to FACTS SIS. You can't go back and forth between these without multiple steps so it will save you time and trouble to ignore the Staff Only button in the App.
If you are

not

an LCCS parent, you can use the STAFF button in the App to access FACTS SIS (previously known as RenWeb1) which is basically a redirect to the browser. Many staff members have said they prefer this option to make it easy to access.
Giving:
This is an additional feature that will save your information if directed after you go through the process once. You can even set up a pin # for faster access in the future. This is a great way to have easy access to give to the school or to set up recurring donations.
Creating an account in the FACTS Family Portal (formerly RenWeb) – First Time User Instructions for Parents
FACTS Family Portal is a secure web-based program that allows parents and students to access their homework assignments, grades, discipline reports, attendance, and class lesson plans online. In order to access the Family Portal portion of this system, you will need to provide the school with your email addresses. You can only create logins to the Family Portal with the same email addresses you have given to the school. Parent logins allow access to each of their students' information.
Students in grades 5-12 will already have accounts set up by the Tech office. They can only view their own information, i.e. they have no access to siblings' information. Instructions for logging in with student accounts can be found under the LCCS App tab.
Parent Instructions for Creating a Family Portal Login
Go to the FACTS Family Portal login page on your computer
Select "Create New Family Portal Account."
Enter LCCS-TX into the District Code field.
Enter your email address. It must match the email address the school has on file for you.
Click the Create Account button.
You will receive an email from FACTS Customer Support containing a link that will allow you to create your username and password. For security purposes, the link will remain active for 6 hours.
Please click on the link. A Change/Create Password screen will open. You may use the default username provided, or create a new username. Then type in your desired password into the Password field and Confirm Field.
Click on the Save Username and/or Password button.
Close the window.
Go back to the Family Portal Login screen.
Enter the district code, user name, and password and then choose "Parent Login."
You can also access FACTS Family Portal items on the go through the LCCS App found in your App Store.
To add LCCS staff or student email onto iPhone or iPad:
Settings
Passwords & Accounts
Accounts > Add Account
Microsoft Exchange
Enter email address (LCCS students are entered as firstname.lastname.stu@lccs.org, faculty are firstinitiallastname@lccs.org
Description (can leave as the default 'Exchange' or modify)
Next
Pop up will ask "Sign in to your lccs.org Exchange account using Microsoft?" – Select "Sign In"
Enter password (the password provided to the tech office)
Save
The account is now on the phone and mail can be found in the Mail app. If you want to keep all emails in the account available, return to the main Settings menu:
Select Passwords & Accounts again
Select the account you added
Scroll down to "Mail Days to Sync"
Change to No Limit
Access student or staff email online through Office 365. You can do this at https://login.microsoftonline.com using your LCCS email address and the password that the tech office has on file. Please DO NOT try to reset your password. Contact the Tech office at help@lccs.org to reset or confirm your password on the next school day.
First Time MS/HS Student Users – How to Log In:
Open the Canvas app > Search LCCS in Find Your School > Lake Country Christian School >
Enter your school email address and then select "Forgot My Password"
Canvas will email you a link to reset the password. Please enter the same password you submitted to the tech office for your email account.
Once you reset the password, reopen the Canvas app and enter your credentials to sign in.
Existing Users – Troubleshooting Ideas:
You can't get uploads, etc., to work:
log out and back in to your Canvas account
restart your iPad and try again
delete the app and re-add it from The App Store
make sure you don't have updates waiting on the Canvas app or on your device
log out of Canvas and close the app out, then go to Settings>Student and tick "Clear Cache on Next Launch," and open the app and login
If a class is not showing up:
refresh the screen, if recently added the class should populate
if this doesn't work let the teacher know you need to be added to the class
Pairing Parent Canvas App:
Please watch this short instructional video detailing how to pair your Parent Canvas app with your Student Canvas app.
If you still have questions please contact your principal.
Logging your volunteer hours spent helping at the school is appreciated. It gives us an idea of what additional work is being done and is a critical part of our grant applications. Foundations want to know how invested our parents are in the school before providing us additional donations. While FACTS stopped supporting a volunteer log in the Family Portal app options, we added a quick form on our LCCS app for easy access!
Here is a video on logging volunteer hours into the LCCS app.
Make sure backup/sync is turned on
Restart iPad
Uninstall/reinstall the app as a last resort